Welcome!
We provide custom made cast nets for the serious and professional angler.
Each one of our nets are made to fit your own individual need, which includes;
size of mesh , length of net , the amount of weight and length of line.
Contact us to discuss your needs !

or
Charlie Kay (718) 667-8730
Cell (917) 273-9725

Charlie, Here is a pix of my son, Hunter, with his first striper.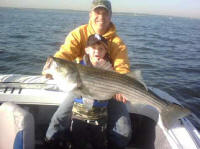 You met him when I picked up my net. This was his first striper---caught on freshly netted BUNKER!. I was definitely more excited than he was. Thanks again. The net is awesome and your guidance on throwing it was invaluable. Best money I ever spent on fishing gear!! Joe Bartnicki