HOW TO THROW A CAST NET
CLICK IMAGES TO MAKE LARGER
STEP 4: With your right hand into the net gently begin to fan the net onto the right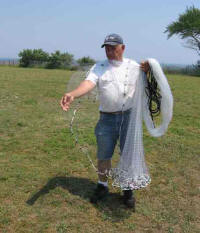 shoulder until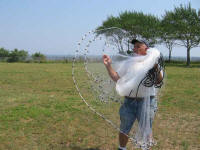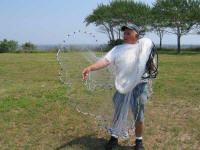 1/2 of the net is resting on it.
STEP 5: Place your hand in between the net and gently slide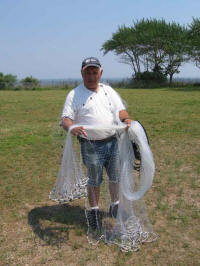 the netting off your right shoulder into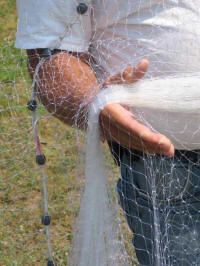 your right hand catching it between your thumb and pointer finger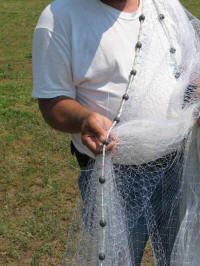 STEP 6: Here's the tricky part once you have the net between your thumb and your pointer finger flip your wrist so the lean line is now on top of the netting and slide the netting between your pinky and the middle finger. Then grasp the lead line between your thumb and pointer finger as shown in figure
STEP7: Begin to throw the net from left to right in an UPWARD ARK, the last thing that you let go is the lead line between your fingers By holding it to the last possible second you will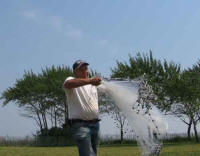 force the net to open in a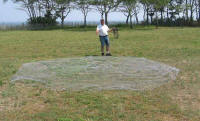 circle
This method like all cast net instructions will take practice I suggest that once you have mastered it on land then on the water before you try it on bait. Nothing is more frustrating than getting the net caught on the boat or a net that doesn't open when throwing on bait!
"GOOD LUCK - PRACTICE- PRACTICE-PRACTICE"
Charlie Kay
East Coast Nets